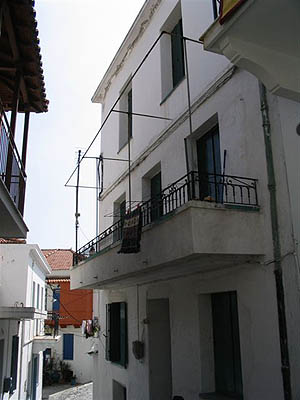 A traditionally built, spacious family home in a quiet, residential area in the centre of the old town. Shops, restaurants and the harbour are a short 3 – 5 minutes walk away, thus making transport unnecessary.
The property has traditional wooden floors and ceilings, together with a wooden staircase – a traditional characteristic of a Skopelite home.
There is a modern kitchen and bathroom in addition to four other rooms which could be utilised as a living room and 3 bedrooms if the purchaser so chose. There is a long balcony on the upper floor above the entrance and the top floor overlooks the rooftops of the town.
This is a genuine old Skopelos family home for those who like tradition and living amongst the local Greek people.