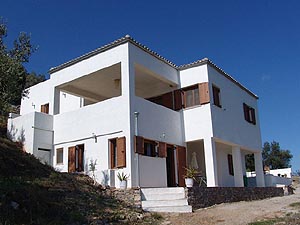 A newly built villa with independent apartment


This ultimate place for a relaxed life offers views of the green mountains as well as of course – the Aegean Sea.

In an olive grove, within easy reach of the islands' most beautiful beaches Limnonari, Agnondas, Amarandos and Panormos, but still just 15 minutes out of town, a newly built villa with independent apartment with lots of outside spaces and roof terrace is for sale.
Built with the best possible materials and with care into every detail, this villa has been finished just 2008, a building license for further 50 m2 can be applied for. The house is positioned South-East, the array of windows collecting morning light as well as the afternoon sun.

FIRST FLOOR
The main part of this house is entered from the first floor. The beautifully crafted traditional open beamed ceiling is one of the first striking assets, entering the living area with the artistic design fireplace. The next highlight will be the big kitchen with dining area in front of the fireplace, open to the living room. From the living room we access the huge covered balcony with views to the island of Evia, sheltered from the hot sun, al fresco meals can be served easily.
Back through the hall some few steps bring you to the sizable master bedroom with private sun terrace, en-suite bathroom and walk-in closet.

APARTMENT
Entering the house from another terrace in front of the house, the door opens into the dining room and new kitchen of the independent apartment, with lots of storing space. Through a short hallway to the left a comfortable bedroom and opposite, crossing the dining area again, there is a the cozy twin bedroom offering the comfort of a second en-suite bathroom.

EXTERIOR
All outside spaces have good sea views. The setting within the islands' pure nature close to the old donkey path invites to explore the hillside of lush Potami Valley.
.